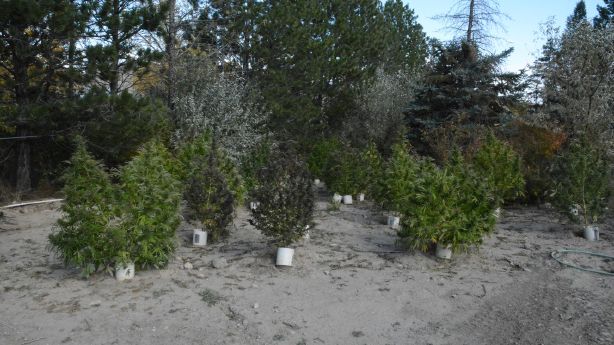 Emery County Sheriff's Office
Police: Bust on former Christmas tree farm nets $100K in marijuana
CASTLE DALE — A drug bust at a former Christmas tree farm in Emery County yielded 156 marijuana plants and several bins of the harvested plant worth a combined $100,000, police said Tuesday.
All but 23 of the marijuana plants were actively growing and ranged from 3 to 7 feet tall, according to the Utah County Sheriff's Office. Drug task force agents "also seized several totes of harvested marijuana," sheriff's office spokeswoman Janalee Luke said in a statement.
Police say they confronted Heinz Egon Lehwalder, 73, on the property and subsequently arrested him.
Lehwalder, of Huntington, was charged Tuesday in 7th District Court with possession of a controlled substance with intent to distribute and production of a controlled substance, both third-degree felonies, as well as possession of drug paraphernalia, a class B misdemeanor.
Luke said property where the marijuana was being grown, located on the far east side of Castle Dale, "included a complex irrigation system and greenhouse."
Lehwalder is the former owner of the property, but it's currently owned by family members who don't live in the area, according to the spokeswoman.
Luke added that the property has not been used as a Christmas tree farm for several years.
Lehwalder was released from the Emery County Jail on Tuesday on his own recognizance. His initial court hearing is scheduled for Oct. 18.
According to court records, Lehwalder has no significant prior criminal history in Utah.
credit ksl