MURRAY — Whether it was concerning work, family, his faith or his community, family members of Utah Highway Patrol trooper Eric Ellsworth say he always stands tall and exceeds his obligations.
"We have witnessed firsthand the fight and the determination Eric has within. We know Eric to be a fighter and one who stands up for the things he believes in. He has already defied the odds and continues to fight this very minute in this hospital for his very life," Jason Moyes, one of Ellsworth's brothers-in-law, said Tuesday.
Ellsworth, of Brigham City, remained hospitalized in extremely critical condition Tuesday, four days after being hit by a car while trying to get other vehicles to avoid a traffic hazard along a rural stretch of state Route 13 at 13600 North near Garland, Box Elder County.
"He sustained injuries while serving, protecting and standing at his post doing what he was called to do as a member of the Utah Highway Patrol. This is what Eric did and that is who Eric is. He stands tall in places he's asked to be," Moyes said.
On Tuesday, 15 members of Ellsworth's family stood behind Moyes as he read a prepared statement on behalf of everyone. The family thanked the community for the love and support they have received since Friday.
They also offered forgiveness to the 16-year-old girl who hit Ellsworth.
"We know that was a tragic accident that affected so many individuals," Moyes said. "We also know this accident greatly affected the life of a young lady. Collectively as a family, we want this young lady to know of our love for her. Our prayers have been there for you and your family. We are so grateful for the immediate feelings of forgiveness and love toward you. You will continue to be in our thoughts and prayers."
The family did not take any questions from the media at the conclusion of their 10-minute statement. Instead, they focused on their loved one.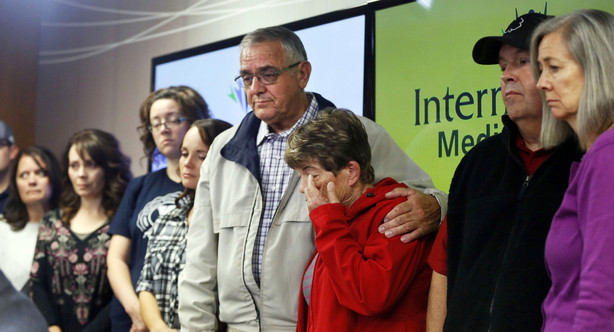 Moyes said Ellsworth comes from a big family. He loves to lifgt weights, camp and is an active member of The Church of Jesus Christ of Latter-day Saints. He served an LDS mission in Winnipeg, Manatoba. Ellsworth also earned the rank of Eagle in his Boy Scout troop. Ellsworth is a second generation UHP trooper. He married his high school sweetheart, Janica, Moyes said. The Ellsworths have been married for 10 years and have three young boys.
"Much like the way Eric's boys idolize their dad, Eric idolized his and wanted to follow in the footsteps of his father," Moyes said.
The family said because of their faith, the know they will see Ellsworth again, no matter what happens over the next few days.
"He stands now where his Heavenly Father has asked him to stand," Moyes said. "We know he is faithfully standing tall. … Our faith is not dependent on outcomes here."
The family asked the public to do its part to help other law enforcers who put their lives on the line every day by slowing down and moving over a lane when they see emergency lights.
Those wanting to help the Ellsworth family can make donations at any America First Credit Union branch under Eric Ellsworth's name. Janica Ellsworth also sells items online at utahdealdiva.com. All items purchased will go toward her husband's medical expenses, Moyes said.
credit KSL